JDOGG'S Person Of The Week – 2014
12/22/2014 – Dale McCutcheon – Survivors Chair- Relay For Life of West Boca Raton FL
I first met Dale McCutcheon about 10 years ago when she was The Luminaria Chair for The American Cancer Society Relay For Life. Dale was worked tirelessly to make The Relay For Life Experience memorable and enjoyable for all those in attendance.  Dale took over the role of Survivor Chair in 2014 and put together a remarkable team that made the survivors and their caregivers feel welcomed to relay. Dale also joined my team, Lederman's Heroes and played an integral part in fundraising for Relay. I chose Dale as JDOGG'S person of the week because she embodies the idea that service to humanity is the best work of life. Her commitment to helping other people excel is to be admired and celebrated. If you would like to support Dale and Relay For Life visit www.relayforlife.org/westbocaratonfl.
12/15/2014 Jacob Jarvis – Buckeye Fan and Muscular Dystrophy Patient
 Jacob Jarvis had a chance meeting several years ago with Ohio State Head Coach Urban Meyer while he was watchinga  football camp. Coach meyer saw Jacob under the goal post and stopped to speak with him and they started playing catch. Jacob would express his love for Buckeye Football and Coach Meyer would arrange for him to come to a practice and then made Jacob a honorary captain.  At the culmination of The 2014-2015 season Jacob would be at the National Championship Game celebrating a victory with his beloved Buckeyes. Jacob is confined to a wheel chair due to complications from Duschenes Muscular Dystrophy, a deteriorating neuromuscular disease. jacob does not let this get him down as he has a very positive attitude and has inspired not only The Buckeyes but all those he comes in contact with.
12/8/2014 –  Pam Whitehead -Triumph Cancer Foundation 
Pam Whitehead, Executive Director – Pam is a cancer survivor and the Founder of the Triumph Fitness Program.  She is a long time advocate for the local cancer community and serves as a local Leader for the Livestrong Foundation. Prior to creating the Triumph Cancer Foundation, Pam served on the Board of Directors for Ride for a Reason, another local nonprofit focused on raising money and awareness for cancer survivorship issues and Parkinson's disease. Pam is an Architect and co-owns Sage Architecture, Inc. with her husband Paul Almond. She holds a Bachelor of Arts degree in Design from the University of Pennsylvania and a Master's Degree in Architecture from the University of Minnesota.
The Triumph Cancer Foundation is a Sacramento-based nonprofit organization. The mission of the Triumph Cancer Foundation is empowering cancer survivors to recapture their lives after cancer treatment through physical fitness.  Our signature program, Triumph Fitness, offers adult cancer survivors an opportunity to regain their strength and stamina in a safe environment with exercise specialists specifically trained to work with cancer survivors.  Our Foundation's main purpose is to provide ongoing funding and support for Triumph Fitness, so that it can continue to be offered to any adult cancer survivor free of charge.  Another goal of our Foundation is to be advocates for the cancer community through the activities in which we participate and the events that we organize. Over the coming years, the Foundation's goal is to expand the current Triumph Fitness Program model to neighboring communities, as well as to offer other health-related Triumph programs to cancer survivors and others who wish to be engaged with the cancer community.
12/1/2014 – Tom Laughlin – Actor and Political Activisit
 Actor Tom Laughlin is best known for his role as Billy Jack in the series that chronicled one man standing up for what he believed in. Tom Laughlin led his life much like the warrior Billy Jack that he portrayed in the movies. He was outspoken and he stood up for what he believed  in.   In the early 1960s, Laughlin put his film career on hiatus to start a Montessori preschool in Santa Monica, California; it became the largest school of its kind in the United States. In his later years, he sought the office of President of the United States in 1992, 2004, and 2008. Tom Laughlin taught people to stand in their power and to pursue their goals with tenacity. He leaves a legacy of being a man of conviction and principle.  Many people were impacted by Tom Laughlin who truly was a tin soldier.

11/24/2014 – Cole Eicher – 12 Year Old Brain Cancer Survivor and Inspiration
 Cole Eicher is one of the most courageous and inspirational kids that I know. I met Cole at The Relay For Life Leadership Summit and he presented his journey in a great way that put life into perspective. When he began to engage the audience with The I BELIEVE THAT WE WILL WIN chant there was not a silent voice in the room nor a dry eye. In meeting Cole and letting him know how courageous he was and that I wanted a photo he humbly said thank you and told me thank you for doing Relay For Life. On my bus ride home from the conference my thoughts were with Cole his Mom, Laura and his Dad, Scott as I knew I had to do more for The 2015 American Cancer Society Relay For Life of West Boca Raton. When I begin to want to give up I think of Cole and I remind myself to be Cole Strong.
Visit www.coleeicher.com to follow Cole's Inspirational Journey.
11/17/2014 – Dr. John Montgomery- Chairman of The Board American Cancer Society Florida Division
  As I announced the arrival of Ralph Devito into the registration area at The Florida Division Relay For Life Leadership Summit the Chairman of The Board Dr. John Montgomery heard me and we made eye contact. I walked over to The American Cancer Society Cancer Action Network Booth to sign up for the advocacy program and Dr, Montgomery looked at me and said I love your voice are you involved with the summit and I said just as an attendee. We engaged in a  great conversation and he told me his story. I was so moved by his story that I said Dr. Montgomery if we can do a quick video this weekend that would be great. On Saturday afternoon he found me and we made the video.  Dr. Montgomery mother was called home to GOD when he was 15 as she lost her battle to cancer. Dr.Montgomery told me he told GOD Thank you  if you keep my mom alive I will become a priest and if you take her I will become a doctor and fight cancer. At age 17 he lost his father. Today he has 3 degrees from Ivy league Institutions, holds 27 certified and accredited endorsements and is Chairman of The Board of The American Cancer Society Florida Division. Thank you Dr. Montgomery for all you are doing to help those touched by cancer.
If you want to support the work of Dr. Montgomery and The American Cancer Society visit http://main.acsevents.org/goto/jdogg2 and make a donation. Thank you Dr. Montgomery for being an inspiration to others.
11/10/2014 – Jeff Ross – Cancer Advocate and Relay For Life Hall Of Famer
When you are in the presence of greatness like Jeff Ross who has been an advocate for those helping those touched by cancer for many years you can not help but to be motivated and inspired.  Jeff's story is amazing as he lost a mom to breast cancer and he got involved in Relay For Life as a way to honor her memory. He has since been inducted in to The Relay For Life Hall Of Fame. It was my hope to meet him one day and that day happened recently as he was the emcee for The Florida Relay For Life Leadership Summit.  I watched him and I learned so much and he rekindled a spark in me to share Relay For Life with everyone.  Jeff said " You can not Explain Relay For Life It Must be Experienced." He shared so much with all that attended and I was privileged that he took time to speak with me. His encouragement is greatly appreciated. Jeff Ross is changing lives and continuing to show that the brotherhood of man transcends the sovereignty of nations and that service to humanity is the best work of life. Thank you Jeff Ross for being an inspiration to all.
11/3/2014 – Teddy Bridgewater -Professional Football Player 
Rose Murphy – Teddy's Mom and Breast Cancer Survivor
FRom his days at Miami Northwestern to Louisville to Minnesota Teddy Bridgewater had one constant and that was his love for his mother. Teddy's mom Rose was diagnosed with Breast Cancer and her battle was won in large part because she said she couldn't leave Teddy. This bond has inspired a short film by Spike Lee titled A Promise2Rose. Teddy Bridgewater is an individual who is winning both on and off the field. I chose him not because of his football prowess but because of his love for his mother and his delivering on  a promise made when he was a kid. Here is the video that inspired me to name Teddy and his Mom JDOGG'S Person Of The Week. I ask that you visit http://main.acsevents.org/goto/jdogg2 and make a donation to honor Rose Murphy.
10/27/2014 Mary Ann Morgan – Friend – Yoga Instructor RYT 500
Mary Ann Morgan- Fried has a spirit that lights up everyplace she goes. After meeting  Mary Ann you will feel better as her positive approach to life infuses you with great energy.  Through her yoga practice and classes she will help to bring you what matterz on and off the mat. I had the pleasure of interview Mary Ann for my TV Show and her positive words propelled me to stay focused and grounded through out the day.
Mary Ann has over 500 hours of certification and continues to take classes, attend workshops, and participates in retreats to continue to grow personally and professionally so she can be of better service to her clients. With over 20 years in the health and wellness industry she brings a wealth of knowledge and leadership to everyone she serves. Mary Ann exemplifies the ideal that service to humanity is the best work of life through her many civic endeavors.  Mary Ann hosts many events in the community to help people make the mind, body, soul connection. If you seek motivation and inspiration you can find her on Facebook.
10/20/2014 Lauren Hill – Cancer Warrior and Mount St. Joeseph's University Basketball Player
  Imagine you are diagnosed with  terminal cancer as a result of a brain tumor and your dream of playing college basketball are all but over. What would you do? Lauren Hill who is courageously battling this terminal cancer kept dreaming and as a result The NCAA moved up the start of The Division III Basketball Season by a couple of weeks to give Lauren a chance to fulfill her dream. Lauren took to the curt and scored the games first two points. Lauren would come out of the game at halftime and be honored with The Pat Summit Courage Award. Lauren would go back into the game an d score the final 2 points of the game as she would get a rebound off  her previously missed shot and score. I t is because of her courage and perseverance in the face of adversity that I named her JDOGG's person Of The Week. Here is her story.

10/13/2014 Melissa Binkley – Transformational Body Image and Health Coach
I had the pleasure and honor of having Melissa on my TV Show, The Anything Bucket, her positive energy and attitude with her zest for life lit up the studio that day. I have watched Melissa continue to empower and inspire others by sharing her story and hosting workshops. Melissa recently hosted her Pure Body Love Retreat where she raised funds to help those touched by domestic violence and to bring schools and home to the impoverished. Melissa is a young woman who exemplifies the concept that service to humanity is the best work of life. Learn more about Melissa at www.bodylovemethod.com.
10/6/2014 Leah Still – Cancer Survivor and Devon Still- Professional Football Player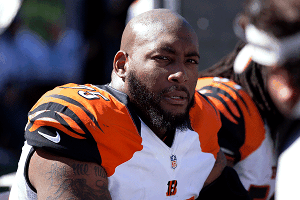 As I watched Sunday Night Football The story of Devon Still's daughter was being told. In June 4 year old Leah Still was diagnosed with stage 4 cancer. This past Thursday Leah went through a grueling 6 hour procedure to remove the tumor that was attacking her body. Her dad and other family members were trying to help her sit up when she defiantly pushed them away and she not only sat up once but she sat up twice. Leah Still makes us all realize how lucky we are to be alive and healthy. Leah's smile shines bright as she battles and inspires others. Devon Still has taught us how to be a great person especially as a role model for father's.
Still and the Bengals — who originally cut him at the end of the preseason before adding him to their practice squad in part to help him retain health insurance to pay for Leah's treatments — have put smiles on countless faces across the globe the past few weeks. On Sunday, the team announced it had sold close to 10,000 of the reserve lineman's jerseys, and that it was picking up the cost ($500,000 total) of making each one. That meant that full proceeds from the sales of Still's $100 jersey were going to the Cincinnati Children's Hospital Medical Center for pediatric cancer research efforts.
"We thought it was vital to get out the [story of] everyday life of a family who is going through life with a child that has cancer," Still said, "just to let everybody know how much support families need financially and just emotionally."
Still was hopeful Leah would be leaving the hospital and going home Monday to Wilmington, Delaware, where her mother and other members of Still's family take care of her while he's in Cincinnati. After some weeks, she'll get back to chemotherapy and radiation therapy and will undergo stem-cell treatments to regenerate her bone marrow.
"For them to be able to remove all the tumor," Still said, "just puts a smile on her face and it gives us something to hope for."
I hope Leah's Story inspires you to visit http://main.acsevents.org/goto/jdogg2 and make a donation in her honor.
9/29/2014 Laura London –  Certified Health Counselor, Speaker, Author, and Fitness Personality
I had the pleasure of attending Laura London's Fit and Fabulous Mom's Contest on September 26, 2014 and her energy and love for life just radiated so much that I had to make her my person of the week. Laura empowers and inspires women especially moms through many of her programs found at www.lauralondonfitness.com.  Laura describes herself as a fun loving free spirit, a wife and mom of 3 who decided to step out of her comfort zone and reinvent her health, body and life in my 40's. Laura has not only transformed her life but has transformed lives of many women who she stated were just like her. She has overcome much adversity including health issues such  Epstein Bar, Chronic Fatigue, and Mononucleosis, not once but twice!  Shes says in the about section at www.lauralondonfitness.com "I have been run down, out of shape and running on empty for years. Then to top it all off I had a back injury!  OMG, was that really necessary!  I was already dealing with enough." She explains why she was not athletic "Athletic?  No not me.  I never ever played any sport growing up because my brother was a hemophiliac. I did not even watch sports on TV.  I am what you call sports illiterate."
I hope Laura's story inspires you to take care of yourself and to be healthy. If you are are a mom and want to be part of The Fit and Fabulous Moms Contest please connect with Laura.
9/22/2014 Jennifer Bricker – Gymnast and Tumbler With No Legs
I first learned of Jennifer Bricker on Facebook and I was so moved by her story that I decided to name her as JDOGG's Person of The Week. Watching her perform on the floor excercise truly inspired me to continue to push forward in my quest to positively impact lives.
Jennifer Bricker wanted to be a gymnast; but there was one problem, she was born without legs. This tragic birth defect caused her biological parents to abandon her in Romania the day she was born. An American family, Gerald and Sharon Bricker, adopted Jennifer and raised her in a small town in Illinois.
Even though Jennifer had unique challenges growing up, her parents wouldn't allow the word "can't" to enter her vocabulary. The Brickers decided to raise her just like they raised their three healthy sons and encouraged her to pursue her dreams. It was because of their acceptance and love that she never saw her disability as a limitation. Instead, she pursued volleyball, softball, and even basketball. But from the very start, her heart was set on gymnastics.
She loved tumbling on the trampoline with her dad and watching famous gold medalist, Dominique Moceanu on television. The family put her in tumbling and she won state titles and competed in the Junior Olympics.
When her friends would point out how amazing it was that she was so good at tumbling even through she was handicapped, she would say, "I'm not handicapped." Then they would reply, "Well, you use a wheelchair." She claimed that the purpose of the wheelchair was just to keep her from getting dirty.
Jennifer always knew she was adopted but didn't inquire about her adoption until she was 16 years old. That's when she found out the biggest news of her life; her childhood idol, Dominique Moceanu, was her biological sister.
When Bricker was 16, her parents — an Illinois couple who adopted her as a baby — revealed to her that the gymnast she had been idolizing was actually her older sister. Four years later, Bricker sent a letter to Moceanu.

Published in Moceanu's new memoir "Off Balance," the letter included photos and Bricker's adoptive papers. Bricker wrote to her sister: "I feel that I have one chance to show you and prove to you that I'm not some crazy person, but I'm sure after seeing all of the papers, you'll see that I'm serious," the New York Daily reports.

Moceanu, now 30, recounted to ABC her reaction to the letter, "It was the biggest bombshell of my life. Rage was my first emotion, had my life been a lie? I had this sister that was born who was given up for adoption, and I never knew it."

When she confronted her parents, they told her that Bricker was born the day after Moceanu's sixth birthday. Moceanu's mother, Camelia, said that her husband, Dmitry, forced her to give up the baby, saying that they couldn't afford the medical care that would be necessary.

"I never saw my baby. I never held her, never touched her, never even smelled her. I desperately wanted to, but your father told me we had to give her up and that was that," Camelia said.

Moceanu had had a tumultuous relationship for years with her parents, who had been athletes and put her in gymnastics at age three. At 17, Moceanu legally emancipated herself from her parents, whom she claimed had repressed her and squandered her fortune, the Daily Mail reports. She also had a restraining order against her father, who had stalked her and who she feared had hired someone to kill two of her close friends. They later reconciled and Dmitry walked Moceanu down the aisle at her 2006 wedding before he passed away in 2008.

The sisters now have a close bond and continue to marvel at their similarities. "The tones in our voices, our handwriting, the way we laugh and chuckle. It's mind-blowing," Moceanu told ABC.
Now, Bricker is a professional acrobat and has even toured with Brittney Spears. She lives in California and has reunited with her biological mother, Camelia.
9/15/2014 – Nick Vujicic – Inspirational Speaker and Author
I first saw a video of Mr. Nick Vujicic about 4 years ago and I immediately thought what a courageous and heroic man. While many would have wallowed in self pity Nick dealt with his adversity head on and decided to live life full out. He has not let what many would consider a handicap to hold him back he paints, he swims, he golfs, he goes fishing, and most importantly he inspires. Nicholas James "Nick" Vujicic is an Australian Christian evangelist and motivational speaker born with tetra-amelia syndrome, a rare disorder characterized by the absence of all four limbs.
As a child, he struggled mentally and emotionally as well as physically, but eventually came to terms with his disability and, at the age of seventeen, started his own non-profit organisation, Life Without Limbs. Vujicic presents motivational speeches worldwide which focus on life with a disability, hope and finding meaning in life. He also speaks about his belief that God can use any willing heart to do his work and that God is big enough to overcome any disability.
During secondary school, Vujicic was elected captain of Runcorn State High School in Queensland and worked with the student council on fundraising events for local charities and disability campaigns. When he was seventeen, he started to give talks at his prayer group[2]and later founded his non-profit organisation, Life Without Limbs.
Vujicic has written that he keeps a pair of shoes in his closet due to his belief in miracles.[3]
In 2005 Vujicic was nominated for the Young Australian of the Year Award.[4]
Vujicic graduated from Griffith University at the age of 21 with a Bachelor of Commerce, with a double major in accountancy andfinancial planning. Subsequently he became a motivational speaker, travelling internationally and focusing on teenagers' issues. Having addressed over three million people in over 44 countries on five continents,[5] he speaks to corporate audiences, congregations and schools.
Vujicic promotes his work through television shows and through his writing. His first book, Life Without Limits: Inspiration for a Ridiculously Good Life was published by Random House in 2010. He markets a motivational DVD, Life's Greater Purpose, a short documentary filmed in 2005 highlighting his home life and regular activities. The second part of the DVD was filmed at his local church in Brisbane – one of his first professional motivational speeches. He markets a DVD for young people titled No Arms, No Legs, No Worries!.[6]
In March 2008, he was interviewed by Bob Cummings for the 20/20 American television show.
He starred in the short film The Butterfly Circus, which won the Doorpost Film Project's top prize of 2009.[7] In 2010, the film also won two awards as the Best Short Film at the 2010 Method Fest Independent Film Festival. At the same film festival, Vujicic was awarded Best Actor in Short Film for his starring performance as Will.[8] Butterfly Circus also won the best short film award at The Feel Good Film Festival in Hollywood in 2010.[9]
9/8/2014 – Pam Higer Polani – Attorney and Community Advocate
 Pam Higer Polani is a very accomplished attorney who believes that service to humanity is the best work of life. She is leading by example as she is chairing the first ever Walk To End Alzheimer's In Boca Raton, FL on October 11. She has put together an impressive committee that has exceeded all the goals set by the National Alzheimer's Foundation. I had the pleasure of interviewing Pam on my TV Show, The Anything Bucket, which airs on www.wrpbitv.com. I was so impressed with her passion to help those affected by Alzheimer's that I named her JDOGG'S Person Of The Week. Please visit www.alz.org/walk to support her efforts to end Alzheimer's.
9/1/2014 – Diane Gershowitz Trivelli – Founder of Arielle Anacker Cancer Foundation
Today starts Childhood Cancer Awareness Month so it is only fitting that JDOGG'S Person Of The Week is a warrior in the movement to help those affected by cancer. Diane Gershowitz Trivelli. Diane plays an integral role in bringing awareness to childhood cancer as her daughter Arielle  fought a strong battle but  was called home to GOD. Diane vowed to Arielle that her memory would live on and as a result started The Arielle Anacker Cancer Foundation. The Goal of the foundation is to help families with children diagnosed with cancer. Diane's commitment to helping those families touched by cancer has helped many families. Diane knows first hand the financial burden treatment can have on a family whose child is affected by cancer. This is why she has diligently worked to raise funds to support the families who are  facing financial burdens brought on by this debilitating disease known as cancer. Please visit www.arielleanackerfoundation.org to support Diane and her efforts to help families and children affected by cancer.
8/25/2014 – Welles Crowther – Commodities Trader Turned Hero
As we approach the 13th anniversary of the tragic events of 9/11/2001 it is important to recognize those who sacrificed themselves to save others. Welles Crowther was working a s a commodities broker on The South Tower of The World Trade Center that day when the plane struck the building. Amongst the flames and smoke he crawled and found access to the stairs and he called out to all those on the floor as shouted I found the stairs if you can walk walk and if you can help someone help. He led that first group out and then turned back up the stairs to lead another group out and he did just that turning back to go up and help more people. It was at that moment that the South Tower Collapsed and Welles Crowther was called home to GOD. As stories were told about this hero in a red bandanna his parents knew it was Welles who made the ultimate sacrifice. Welles gave his life to save others.

8/18/2014 Mo'Ne Davis – Little league Baseball Player
If you follow sports especially youth sports and little league baseball you have now heard of Mo'Ne Davis a little league baseball pitcher who has take the diamond by storm with her 70 MPH fast ball. I found it only fitting that this 13 year old girl has excelled in baseball,  after all diamonds are a girls best friend. Mo'Ne has made her mark on this year's Little League World Series and hopefully will inspire many to use their talents and excel on and off the field. many have said she is receiving to much attention at her age and this is not good. I say let's find more like her and make them the focal point of all news.  I wish Mo'Ne and her team much luck as they continue in their quest for a championship. Mo'Ne shows us how to be a champion on and off the field and thus it is my pleasure to name her a JDOGG'S Person of the week.
8/11/2014 – Dr. Gordy Klatt- Pioneer and Founder of Relay For Life
 Though I never had the pleasure of meeting Dr. Gordy Klatt who was called home to GOD on Sunday August 3, 2014 I can say he inspired me to be active in my local Relay For Life. I watched many videos of his message and was always inspired by his positive attitude. As the photos show his smile was infectious and he had a way of bring people together. In 1985 he decided to do something to bring awareness and raise funds for The American Cancer Society when he took to a track in Tacoma Washington and ran for 24 hours raising over $27,000.The next year, 220 people on 19 teams joined him, and a worldwide phenomenon was born. In 1994, it became the American Cancer Society's signature event. Today, the Relay For Life is held in 23 countries and has raised nearly $5 billion. Klatt leaves a legacy of hope and healing for all those affected by cancer.
8/4/2014 – Raymond Burse –  Kentucky State President
Dr. Raymond Burse, the interim president of Kentucky State University, has given up more than $90,000 from his yearly salary. As I read this story and saw it posted on Facebook I thought wow what a great gesture. I have been speaking about how we as people must look for ways to change the world. This is a great way to empower and inspire others who are in a position to give to step up and become a lifter. I have read comments that were negative towards this man's actions and I thought what is so bad about someone of means making a small sacrifice to help others. Imagine of everyone began to look out for each other and followed Raymond's lead the improvement that our country would experience. Some have said it is a publicity stunt. Raymond said 
This is not a publicity stunt," . "You don't give up $90,000 for publicity. I did this for the people. This is something I've been thinking about from the beginning."
Burse served as Kentucky State's president between 1982 and 1989 before working for 17 years as an executive for General Electric Co. Upon returning to the university for this stint as interim president, Burse immediately began considering ways to improve the working conditions for other university employees.
"My whole thing is I don't need to work," Burse told the Herald-Leader. "This is not a hobby, but in terms of the people who do the hard work and heavy lifting, they are at the lower pay scale."
Burse's salary dropped from $349,869 to $259,745. The decision to increase the hourly minimum wage for university employees will continue beyond Burse's tenure as interim president, as the university is expected to adopt the rate of $10.25 per hour full-time.
Some will say he should do more. I say he did plenty and he continues to be of service and value to others.
7/28/2014 – Jim Kelly – Former NFL Football Player and Cancer Survivor
 I have always been a fan of Jim Kelly, from his days at University of Miami to his days with The Buffalo Bills I have always found him to be a class act. He has handled so much adversity in his life and done so with much class and dignity.  Jim was recently diagnosed with cancer and is battling with the same grace and dignity that he has shone in all he does. Jim Kelly is a Hall Of Famer not only in football but in life. His son, Hunter, was called home to GOD and Jim like he always does show the class that makes him a Hall of Famer in Life.
7/21/2014 Tim Harris – Special Olympic Athlete and Owner of Tim's Place Restaurant
The famous quote from Walt Disney, "If you can dream it, you can do it" has been the driving force behind the life of Tim Harris.  Born in 1986 with Down Syndrome, Tim's life has been defined by exceeding expectations. I first learned of Tim Harris through a video posted on Facebook and was so moved by his story that I wanted to name him JDOGG's Person Of The Week.
I Tim's story inspires you to put aside all thoughts that you can not do something and that you do what you dream.
7/14/2014 Joshua Sweeney – Retired U.S. Marine and USA Sled Hockey Team Captain
Joshua Sweeney is a living example of triumph over adversity. He lost his legs when an IAD exploded underneath him. He waited 2 hours on the battlefield for the medics to evacuate him. Upon his arrival home he was determined to rise back up and show people that they all can accomplish great things.
Joshua Sweeney is an American gold medal sledge hockey player and Purple Heart recipient who competed in 2014 Winter Paralympics in Sochi, Russia. In 2009 he lost his leg while serving his patrol duty in Nowzad,[1] Afghanistan as a sergeant of theUnited States Marine Corps. Five years later he joined Paralympic sledge hockey team and lost 2-1 to the Russians.[2] Couple of days later, he scored the only goal with which his team won a gold medal in a final against the same country.

7/7/2014 Stuart Scott – ESPN Anchor and Cancer Survivor
I have always admired Stuart Scott and I aspire to hone my skills as a broadcaster to be on his level one day. He is inspiring so many as he valiantly battles cancer and empowering people with his message.
Stuart Scott is, indeed, cooler than the other side of the pillow. BOOYAH!!!
Scott, one of ESPN's most popular anchors, received the 2014 Jimmy V Perseverance Award at last night's Espy Awards, according to the Hollywood Reporter. The Jimmy V award is given annually to a public figure who has shown extraordinary strength and resilience in the face of overwhelming adversity. Scott is currently in the midst of a seven-year appendiceal cancer battle.
The award is named for the late Jimmy Valvano, a former college basketball with North Carolina State who died of metastatic adenocarcinoma in 1993. Before his death, Valvano was able to create the Jimmy V Foundation for Cancer Research, accepting donations and organizing Jimmy V Day on ESPN, where people bid on specially created sports events that fans can bid on auction-style. All proceeds go to the Jimmy V Foundation.
Scott invoked the award's namesake during his acceptance speech last night, including the foundation's motto and rally cry, "Don't give up, don't ever give up." "To be honored with this," Scott said, "I know I have a responsibility to never give up. I'm not special; I just listened to what the man said."
Scott offered plenty of inspiration of his own, crediting those around him and even his bosses for fighting on his behalf. "I just got out of the hospital; I had four surgeries in the span of seven days," Scott revealed, silencing the Nokia Theatre audience. "I had tubes running through every part of my body! As of Sunday, I didn't even know if I could make it here. I couldn't fight. But the doctors and nurses could; the people that I loved and my friends and family, they could. This whole fight, this journey thing, is not a solo venture, this is something that requires support."
Before beginning his speech, a video documenting Scott's treatments and road back to work showed the lively anchor in a doctor's room, drained, struggling to smile for the camera. "I'm not losing. I'm still here fighting," Scott managed to tell the camera.
"I've got to amend that," Scott said onstage, clutching the award. "When you die, it does not mean that you lose to cancer. You beat cancer by how you live, while you live and the manner in which you live," which triggered a roaring applause.
Scott's touching speech concluded when he asked his younger daughter to join him onstage, reports the hollywoodlife.com website. "The best thing I've ever done, the best thing I will ever do is be a dad to Taelor and Sydni," Scott said of his children. "I can't ever give up because I can't leave my daughters. I love you girls more than I will ever be able to express. You are my heartbeat. I am standing on this stage tonight because of you."
6/30/2014 – Joel Gresham – Artist and Founder of Not 1 Forgotten
    I met Joel Gresham at Starbucks and was very impressed by what he is doing to help bring awareness to the public about men with cancer through his Not 1 Forgotten project.
Nationally-Known Artist Joel Gresham Will Attempt 
to Paint 100 Original Paintings in Less Than 100 Days
to Help Raise Awareness and to Celebrate June as Men's Cancer Awareness Month
"Recognizing the power of a symbol, the blue and black necktie serves as a reminder to men to get regular checkups".   
(FORT LAUDERDALE, FLORIDA ( May 30, 2014) – Joel Gresham—A nationally known artist whose works are in the private collections such as Oprah and Quincy Jones will be challenging himself to paint 100 original necktie paintings in less than 100 days to help raise recognition for  Not 1 Forgotten Men's Cancer Awareness.
 The 100 planned paintings will be donated to 100 hospitals and cancer centers nationwide starting with an art exhibition on May 30, 2014 at the Sunrise Civic Center Art Gallery at 6:30pm. This endeavor will be used to expand the outreach of Gresham's message and to celebrate June as men's cancer awareness month.
The Center for Disease Control states that "cancer will claim the lives of nearly 300,000 men in America quotes Gresham. In addition, statistics show that a higher percentage of men will die from cancer than women because they are typically diagnosed at a later stage." After losing many good friends and family members to cancer, Joel Gresham is committed to spreading the message of cancer awareness. He created the organization Not 1 Forgotten to encourage men to get regular checkups as a preventive measure to stay healthy and live longer. Gresham states, "Our goal is to bring a permanent end to complacency and fear."
The artist/activist has created a symbol to rally around, a blue and black necktie designed as a tribute and celebration to honor the lives of men as a national symbol of togetherness. The blue of the necktie signifies hope and faith. The black knot of the necktie is a symbol for healing.
Joel Gresham is an artist and author. He was born in Fort Lauderdale and received his college education in Atlanta, with a degree in broadcasting. As a Dale Carnegie graduate, Joel's proudest moment came when his peers voted him as "Human Relations Champion." Joel's remarkable gift as a fine artist has brought him significant acclaim in his 37 years of experience. In addition to Oprah and Quincy Jones, his works are in many public and private collections including those of Edwin Moses, Bernie Marcus, Paul Winfield, Marla Gibbs, Hank Aaron, James Worthy, and Muhammad Ali.
6/23/2014 – Ana Varela Alvite – Founder Shelter Dogs Glamour Project
I met Ana via Facebook and was impressed by her dedication to helping animals. her passion for helping animals led her to start The Shelter Dogs Glamour Project, where she visits The Miami Dade Animal Services Shelter and takes photos of the dogs to show that they are glamorous and deserving of a forever home. Ana has plans to do this for the cats as well. She not only can pet sit for you but she can also take photos for special events and occasions as well as professional head shots. Ana is very dedicated to helping others and recently raised money for The American Cancer Society Relay For Life of West Boca Raton. You can connect with her through Facebook.
6/16/2014 – Mr. Hardge – Inspirational Speaker, Author, Youth Advocate
    I met Mr. Hardge at an Authors Showcase and I was moved by his message and his passion to help the youth of our community. He has several videos and songs as well as a book, Prescription for Success. He is on a mission to build children instead of  having to repair adults.
About
Mr. Hardge, President and CEO
of Hardge Management Inc.,
Real Estate and Development
Company in Ft. Lauderdale, Fl,
He is a Motivational Speaker,
…
See More
Mr. Hardge, President and CEO
of Hardge Management Inc.,
a family owned and operated
Real Estate and Development
Company in Ft. Lauderdale, Fl,
He is a Motivational Speaker,
Writer, Author, Producer and
Artist whose foundation for life is
built on Success Quotes, Universal
Principals, and Biblical Scriptures.
An advocate for assisting both
young people and adults to
develop inwardly to create Success
in their lives, he wrote this book
and produced an album to further the cause. While the book
is insightful, witty and applicable, his album reveals a man
who has experienced several sides of life. Mr. Hardge is at a
point in his life where he realizes the real reason one is Blessed
is to be a Blessing.
Mr. Hardge Enterprises is a company committed to change. The main focus is to provide informational materials that will allow individuals to change their mindset to change their lives.
6/9/2014 – Lucy Li – 11 Year Old Golfer
I as watched the story of Lucy Li on ESPN I thought wow  here is an 11 year old who is doing what she loves to do and is more articulate than some of the adults I now. When she asked why she wore red white and blue she looked at the reporter with a bit of disdain and said because it is The U.S. Open. Lucy did not make the cut after shooting back to back scores of 78 putting her 16 over par, which some professionals don't even shoot. Lucy chose to eat ice cream and do her interview, which I thought was great. Lucy shows us what we can do when we put our passion into action. Some have questioned why she is competing and the answer is easy because she is just that good. Hopefully she will be able to stay grounded and improve and serve as a role model for others. The lesson to parents here is that if your child excels at something be lifting and give them the tools they need.
6/2/2014 – Mary Russell Hankins – Author and Founder of Faith, Family, and Love
When I met Mary Russell Hankins I knew I was in the presence of a passionate strong woman who exemplifies the idea that faith in GOD gives meaning and purpose to human life. Her trials and tribulations are captured in her book Faith, Family, and Love which will resonate with so many that are facing challenges in their personal and professional life. Mary's personal journey shows everyone that they can make a difference in the lives of others.
Faith Family & Love was birthed from a deep place inside the author's life. In her mind and spirit, it was dilapidated with so many hurts, past pains and emotional rollercoasters of disappointments. In finding God, she realized: the more she surrendered to God the more she began to gain wisdom, knowledge and understanding. Not knowing if she had Faith, she can have it all. Faith gave Mary strength to fight for her life as well as her family. God envisioned Mary, to express her thoughts and expressions through her poems and poetry.
5/26/2014 – The American Cancer Society Relay For Life Of Boca Raton
I chose to honor an event, The American Cancer Society Relay For Life of Boca Raton as JDOGG's Person Of The Week as it represents a communities commitment to help those affected by cancer. Those involved with The American Cancer Society Relay For Life of Boca Raton are to be applauded and celebrated. You can click on the links below to donate and help to finish the fight. The American Cancer Society Relay F0r Life of Boca Raton has Raised $19,352.17  and set a goal of $60,000. Donations can be made until August 1, 2014. After August 1 Donations are credited to the 2015 Relay For Life.
5/19/2014 – Ethan Bortnick – Writer, Composer, Singer
I was watching WLRN, The Public Broadcast Station in my community and I came across a concert by Ethan Bortnick. I had never heard of this young man however I was intrigued by his voice and hos showmanship and his love for his brother who has autism. Ethan put together an amazing show. The fact that he is only 13 is simply amazing. When you visit www.ethanbortnick.com you will find the following bio.
Thirteen year old Ethan Bortnick has moved audiences nationally and internationally as a pianist, composer, singer, entertainer, and a driven humanitarian, dedicated to combining his musical pursuits with his charity work. At three years of age, the Hollywood, Florida native begged his parents for piano lessons and discovered an uncanny ability to hear a song once and play it back note for note – the musical equivalent of a photographic memory.
Ethan has toured the world, connecting with diverse audiences in countries such as South Africa, Brazil, Canada and Australia. In 2011, he made history as the youngest entertainer to headline a show in Las Vegas.  Ethan was recently certified by the Guinness World Records as The World's Youngest Solo Musician to Headline His Own Tour.  He has also earned the distinction of being named the youngest musician to be endorsed by a premier instrument manufacturer through his Gibson Guitar/Baldwin Piano sponsorship.
When Ethan was five, his younger brother had three heart surgeries and that emotional time inspired him to use his musical talents to benefit charity. "I remember going to Miami Children's Hospital and seeing a lot of sick children. I learned that some of these kids could not afford surgery so the hospital raised money for them. It made me want to help these kids," Ethan explains.
Since then Ethan Bortnick has helped raise over $30,000,000 for nonprofits around the world.  At these charity events he's shared the stage with such legends as Elton John, Josh Groban, Andrea Bocelli, Beyonce, and Reba McEntire, among many others. In 2010 he joined some of music's biggest names – including Barbra Streisand, Celine Dion, the Black Eyed Peas, Justin Bieber, and Tony Bennett as the youngest of the all-star lineup that recorded We Are The World 25 For Haiti.
His deep musical knowledge, broad tastes, and staggering talents make his performances a treat for the whole family. Onstage, Ethan performs relaxing jazz, dazzling classical music, raise-the-roof rock n roll, and his own memorable originals. He knows hundreds of songs that he can instantly call up to memory. Just by looking out at the crowd and gauging their reactions to songs, Ethan can tailor a pleasing and enjoyable 'in-the-moment' performance. Sets can go from Beethoven to the Beatles to Bieber. It's all a natural flow for Ethan, and he's always relaxed before performances. "I don't get nervous before a concert," he says. "I usually play video games and as soon as they say Ladies and Gentlemen Please Welcome…I give the video game to my dad and run onstage."
The piano whiz does not come from a musical family. He began at the age of three picking out melodies with one finger on an eight-note children's keyboard. Around this time he pleaded with his parents to study on a real piano with formal lessons. He soaked up the music of such diverse artists and composers as Beethoven, Mozart, jazz pianist Bill Evans, Little Richard, and Elton John, and began writing original compositions at age five.
Ethan has been featured on many national television shows, including multiple appearances on The Tonight Show with Jay Leno, Good Morning America and Oprah, where he was named one of Oprah's All Time Smartest, Most Talented Kids! In 2010, Ethan made history as the youngest musician to create and host his own award-winning, nationally-televised concert special on PBS, which aired over 600 times on Public Television stations nationwide.  Legend Quincy Jones has this to say of his songcraft: "Ethan's imagination and ability to create music from stories is unbelievable.
Ethan completed shooting a full-length feature film called Anything Is Possible which was released in September 2013 to rave reviews. He co-wrote all of the songs in the film and scored all the background music; a soundtrack will be released simultaneously with the film. Ethan will star as Nathan, the main character, and the touching tale will reflect Ethan's sense of optimism and his commitment to bring warmth and happiness to kids and families worldwide. It's a fitting storyline for a boy who is on an epic music-career journey, but remains pure and humble when sharing his talents. 
In December (2013), Ethan returns to Public Television with his second concert special "Ethan Bortnick Live in Concert: The Power of Music" – Recorded recently at a concert in front of over 2,000 fans, The Power of Music is a follow-up to Ethan's successful 2010 PBS concert special.  His special guests in the program are Damian McGinty of Glee and Celtic Thunder, and Grammy nominated vocalist Jane Monheit.
Billy Joel's Musical Director, Dave Rosenthal, renowned globally for his work including more than twenty years working with Mr. Joel, acts as Ethan's Musical Director and was also the Musical Director for the latest TV Special, The Power of Music.
For Ethan, the most fulfilling aspect of success is bringing people joy. He says: "As long as the audience is enjoying the music, having fun, smiling, and dancing, I'm happy and I love it!"

5/12/2014 – Oscar Knox – Inspirational Kid Who Lost His Battle With Cancer
   The bells tolled across Ireland when the news hit Oscar Knox, a five-year-old boy whose battle against a rare form of cancer captured the hearts of thousands and united a community, has died. Oscar leaves a legacy of hope and shows us all how important it that we continue to support cancer research so that one day there will be a cure. I have set up a donation page for The 2014 American Cancer Society Relay For Life of West Boca Raton, FL at http://main.acsevents.org/goto/jdogg1 where you can make a donation in Oscar's Memory. Oscar's battle captivated an entire country. His fighting spirit encouraged all of those who knew him or knew about him to continue to press on.
He was first diagnosed with neuroblastoma in November 2011, but was given the all clear in April 2013. Sadly, the disease returned in August that year.
His family's fundraising appeal raised the £250,000 needed to pay for immunotherapy treatment in America and his parents set up the Twitter account to allow family and friends to receive updates on his progress. The account quickly gained thousands of followers.
Their campaign won many high-profile friends and memorably Oscar wreaked havoc during a visit to the offices of Northern Ireland's First Minister Peter Robinson and Deputy First Minister Martin McGuinness at Stormont.
The political leaders led the tributes today. Mr Robinson said his thoughts and prayers were with his parents and sister Isobella.
"Their sense of loss and devastation is immeasurable," he said.
"When I met Oscar I was struck by his infinite energy and sense of fun. He had a tremendous capacity to overcome the challenges he and his family faced together.
"Oscar was an amazing little boy who lived his life to the full and filled those around him with admiration and hope. He will be deeply missed by everyone who met and loved him."
Mr McGuinness said: "Oscar touched the hearts and minds of everyone and inspired countless people through his positive attitude and resilience.
"The day Oscar and his family visited Stormont was one of my most uplifting days in politics and you couldn't help but be enthused by his vibrancy and spirit."
Oscar was an enthusiastic Celtic supporter but his campaign was also backed strongly by Glasgow Rangers fans.
When Celtic played Belfast side Cliftonville in Glasgow last summer in a Champions League qualifier Oscar was the team mascot.
Celtic chief executive Peter Lawwell said: "This is absolutely devastating news and our thoughts and prayers are with Oscar's parents, Stephen and Leona, and his little sister, Izzie, at this desperately sad time.
"We can't even begin to understand the pain of their loss, but I hope that there will be a small measure of consolation in knowing that there was genuine love and affection for Oscar from the Celtic family throughout the world.
While Oscar may be gone from the physical earth his spirit lives on and teaches us to live for each moment.
5/5/2014 – Josh Pita – Cancer Survivor and Youth Football Player
Joshua Pita's story is one of inspiration and hope. He has been battling cancer for many years and undergoing treatment while still being a leader on his football team. Josh's cancer is in remission and this is the first year he is playing football cancer free. I had the pleasure of calling one of Josh's games last year and he had several tackles. The following video tells his story.

4/28/2014 – Charlotte Brown – Blind Pole Vaulter
I was watching ESPN the other day and this amazing story about Charlotte Brown, a pole vaulter from Texas came on. The story was inspiring as Charlotte is blind and has  succeeded in reaching The High School State Finals for Pole Vault. In 2013 she finished 8th out of 300 competitors.  She will compete in  The State Meet again in 2014 to be held on May 9-10. This video tells her story.
4/21/2014 Romana Lieffort Hansen – Mary Kay Representative and Community Advocate
 Romana Hansen is a  Professional Volunteer and Independent Mary Kay Consultant. She loves meeting and helping people. She is currently Advocacy Chairperson for the Relay for Life of St Lucie West. She is  also am Team Recruitment Chairperson of the Treasure Coast End Alzheimer's Walk. I have not met Romana in person however I been following her on Facebook. When I saw all the great things she has accomplished and all the activities she supports I decided to make her my person of the week.  Below is her bio. I hope by meeting Roman through this blog that you will be inspired to continue on your path and to step into your power.
My brother, Riccardo, identical twin sister, Ramona, and I were born Air Force Brats. We lived in Alaska, Ohio, New Mexico and Germany. During my 15 years in Germany, I spent summers with my mother's family in Italy.
I graduated from Kaiserslautern American High School in 1979. Worked for the Army at the Kaiserslautern Army Depot for 3 years, while attending the University of Maryland, at night. I earned my AA and moved to Vero Beach, Florida in 1982, where my father retired from the Air Force with 30 years served.
I attended the University of South Florida in Tampa and earned my BA in Business Management in 1985. I became a Retail Manager for Toys R Us and then worked for the University of South Florida processing Payroll for their Medical Center, FMHI, All Children's Hospital in St. Petersburg, and also the  Lakeland, Sarasota, and Ft. Myers Campuses.
I married my college sweetheart in 1987 and moved to Ft. Myers. I worked for a manufacturing company processing Payroll, Accounts Receivables and Production Control. I attended USF Ft. Myers campus at night and interned earning another BA this time in Elementary Education.
While living in Ft. Myers. I became involved with my husband in several charities. I was an active participant in the SW FL March of Dimes Walk America and the annual Gourmet Chef's Auctions for 14 years. I also attended walks and functions by the American Heart Association, the Tri-County Builders Association, the Lee County Education Foundation, Lee County Parks Environmental Education, the Abuse and Counseling Treatment Center, and Paint Your Heart Out Lee County.
I also taught second graders at an inner city school for 5 years and at a magnet school for the next 5 years, while earning my Masters of Education in Curriculum Instruction, Instructional Technology. I survived a car accident in 1995, PTSD, chronic pain and the suicide of a close friend during that time.
I moved to Vero Beach to be close to my family in 2001 and divorced 4 years later. I began teaching again and performed in the Bye Bye Birdie Production at the Vero Beach Theatre Guild. I taught 1st grade and K-3 Intensive Reading in St. Lucie and continued leading teams for the Martin County Walk America. In 2005 I was asked to participate in the American Cancer Society's Relay for Life in Martin County, so I became On-Lline Chairperson and set up a family team. I went to teach Intensive Reading at St. Lucie West Centennial HS in 2005 and was asked to take over as Team Captain of their Faculty and Friends Relay for Life Team. So, I was heading 2 Relay teams and had never participated in a Relay for Life Event before! I was Team Captain of 6 Relays, Mission Education Chair, and Luminaria Chair, and served on the American Cancer Society St. Lucie County Operating Board.
During 2006-2008 I became a licensed foster parent. Two days after my honeymoon, with my new husband, we fostered our first child. We fostered a total of 5 children.
I "retired" from teaching 2 years ago. So, in 2012, I became a Professional Volunteer. I volunteered for Treasure Coast Hospice. I did the Pet Peace of Mind Program, Thursday Calls to home bound clients, 6 month Bereavement and Telephone Assurance Program Calls, Patient Visitor and 11th hour Volunteer at homes, Nursing Homes and Assisted Living Facilities (ALF). I volunteered in an Alzheimer's Unit once a week for 18 months. I conducted activities such as reading, singing, patterns, flashcards, puzzles, trivia, playing Kooshie ball and assisting on field trips. I brought some residents to the Catholic Mass at the ALF, where I sang.
I currently sing in the St. Lucie Catholic Church Choir. In the past 2 years, I participated or volunteered for the Walk for Suicide Prevention, Relay for Life. End Alzheimer's Walk, the Making Strides Against Breast Cancer Walk, the Hospice Beach Stroll, Lauren's Kids Walk, Autism Walk and am getting ready for the Relay for Life St Lucie West May 16th -17th. I also am recruiting teams for the Treasure Coast End Alzheimer's Walk on Oct. 25th.
I am an avid advocate for Mental Health and Fibromyalgia Awareness.
4/14/2014 Wendi Klein Blum – Author, International Speaker, Entrepreneur Consultant, Designer and MORE!
Wendi Blum worked in the pharmaceutical industry for over 20 years until (at age 45) felt a calling to completely change every aspect of her life. After two decades in a successful sales career (having worked for Zenecca Pharmaceuticals, PDI and Bristol Myers Squibb, wearing many different hats including advocacy, sales, and training) Wendi decided to re-write the story of her life literally and become an international inspirational speaker, author, workshop leader, success coach, and lifeshift retreat guru.
She is the author of 5 books – known for her focus on reinvention, goal mastery, and business savy – she is known as "the queen of reinvention" Her titles include: "Your Life, Your Destiny, Uncover Yours, LifeShift and "Goals Setting Workbook: Success Strategies for The New Economy" – and many more. 
Blum is known for her blend of Spiritual flare with business savvy " because of how she merges these two powerful components together. (oh, and she is certified in NLP too)!
Wendi not only writes her own books, but helps her clients tap into their creative side and become authors too!
She also LOVES, LOVES, LOVES to speak to audiences around the globe sharing inspiration, wisdom, and empowerment to both small and large audiences!
Wendi has shared the stage with some pretty well known speakers including: Jack Canfield, Chris Evert, David Neagle, Suzanne Evans, Craig Duswalt, and many more. In less than 2 years, Wendi has spoken over 150 times and sends out her weekly LIFE NOTE newsletter to over 3500 enthusaitic inspiration fans.
Blum been written up in Orlando Style, Miami Herald, Where, Style Magazine and The Boca Tribune, to name a few. She also has been a featured guest on The South Florida Morning Show and WPN TV while her inspirational clothing line has been on The View, Chelsey Lately, E-Entertainment (and worn by Rachel Ray, Dee Wallace, Ahsley Judd, and Sandra Bullock among the many)
Blum has been on numerous radio shows including: Nothing But Extraordinary, Motivational Radio with Lisa Lomas in Australia, Intentional LIfe Radio, and 101.5 in South Florida and many many more.
Wendi is passionate about inspiring millions of people to live fearlessly, transform old beliefs, and live their highest potential.
She works with a variety of individuals and businesses – as their Entreprenuer Business Coach, Sales Strategist, and get unstuck now advisor and more.
Since the launch of Wendi's first book she has been giving seminars nationally and internationally – holds entrepreneurial retreats (in Colorado, Florida, and Bali), teaches workshops, and internet based webinars on topics including:
Living Your Best Life NOW, Success Strategies, Sales Shift, Life Shift, Prosperity Shift, Raise Your Vibration, Goal Mastery, Tap into Your Power and many more. She most often customizes her talks for her audiences to make them engaging and unique.
Want to know more…she is roaring and ready to go!!!!  You can see Wendi on www.wrpbitv.com on Tuesday at 7:00 PM EDT.
4/7/2014 Scott Neeson – Film Mogul Turned Philanthropist
Scott Neeson was born in Edinburgh, Scotland. At age 5, he and his family moved to Australia.[1]
He was raised in the industrial city of Elizabeth, South Australia, and never completed high school.[2] Delivering movie posters for a company that operated drive-in movie theatres launched what was to become a successful career in the film business. He quickly climbed the ranks of the Australian film industry, and in 1993 accepted a position with 20th Century Fox International in Los Angeles.
Neeson spent 10 years at Fox, ultimately becoming President of 20th Century Fox International, and oversaw the releases of blockbusters such as Titanic, Braveheart, Independence Day, X-Men, the Star Wars prequel trilogy and over 100 other films.[3]
Cambodian Children's Fund
In 2003, Neeson left Fox for Sony Pictures Entertainment but before starting his new role, he took a mini sabbatical through Asia.
Neeson was living the so-called American dream,[4] but it took a trip to a Cambodian garbage dump to find his true calling.[5] Neeson's life changed at Steung Meanchey, a toxic landfill just outside Cambodia's capital of Phnom Penh. Steung Meanchey was the city's dump, but home to countless children, many without families, and families who made their livings sifting through mountains of burning, hazardous waste for plastic and metal to sell to recycling centers.
Stunned by the desperation and unlikely courage of the families and children there, Neeson spent the remainder of his 2003 Southeast Asian holiday laying the foundation for Cambodian Children's Fund (CCF).[2] He returned home, started his new role with Sony Pictures Entertainment but made monthly trips to Cambodia to continue to build on this dream. By 2004, he had resigned from his Hollywood job, sold his home, boat and cars, hired his first local staff member and moved to Cambodia as founder and executive director of CCF.
CCF was initially developed to provide a safe haven for 45 children in critical need. The 2011 annual report states that CCF offers refuge, education, medical treatment and leadership training to more than 1,500 children.[6] Nearly two-thirds of these children once lived and worked atop the Steung Meanchey garbage dump and almost 75% are young girls. The dump was relocated in 2009, but the families remain and continue to rely on garbage scavenging as a means of survival, and instead wheel their carts into the city each day or night. CCF provides award-winning,[7] comprehensive care for these families and others from underserved rural regions of Cambodia.
Scott and CCF in 2013
Today, Neeson continues his evening walkabouts of the slum villages surrounding Steung Meanchey checking in on families he knows are in need, following up with students living in the area, visiting the CCF Satellite schools and rescuing young children who have been abandoned or are in desperate need of CCF services and education. His days are spent taking part in student meetings and student award ceremonies at the many CCF facilities, managing the executive and international offices and furthering relationships with sponsors and dignitaries around the globe.
The organization has four boarding schools, three satellite schools and a community center, plus the Star Bakery and Star Restaurant. The CCF Community Center houses a variety of educational classes, plus daycare, nursery and maternal care programs, a free medical clinic and an emergency shelter for victims of domestic violence.[6]
The Star Bakery and Star Restaurant also provide hands-on training and work experience for CCF students and unemployed youth in Steung Meanchey. Vocational training is also available to unskilled mothers who have children enrolled in CCF's Education Program through the EnGender Program at the Srey Meanchey Garment Centre. This Program not only covers garment design and construction but also money management skills such as budgeting and saving, life skills such as hygiene, and parenting and advocacy which helps women understand their rights as women, their rights in relation to domestic violence and the rights of their children.
In addition to vocational training, CCF provides university education for qualifying students, and is invested in developing tomorrow's leaders. Leadership Camps and ongoing classes provide students with ongoing training and tools. Students in the four-year Community Leadership Program get real life experience helping the very community they came from as they organize and run numerous CCF community programs such as the Granny Program, Food Program and the TOMS Shoes Program. CCF High School and University students also serve as teaching assistants in the evening classrooms.
In 2007, Quincy Jones awarded Neeson the inaugural Harvard School of Public Health "Q Prize" in recognition of his extraordinary leadership in advocacy for children, calling Neeson's "selfless, remarkable commitment to the children of Cambodia" a "genuine profile in courage."[8] In the same year, CCF received the Rex Foundation Bill Graham award for creating a sanctuary for Cambodian children to thrive, learn and grow.[9]
Neeson was honored with the Ahimsa Award in 2012, presented annually at the House of Commons to an individual who embodies non-violence and compassion.[10] Previous Ahisma recipients include Nelson Mandela and the Dalai Lama. CCF also received a 2012 WISE Award, recognizing its transformative impact on education and society.[11] The WISE Awards identify, showcase and promote six innovative educational projects each year.
Neeson was featured as one of the "Heroes Among Us" in a November 2012 issue of People Magazine. Earlier in 2012, a documentary chronicling Neeson's Cambodian experience titled Streets With No Names was featured on the TV show Australian Story,[2] and CCF's Star Restaurant was the focus of a recent episode of the Australian TV show Poh's Kitchen. Neeson has also been ABC's Person of the Week. CCF has been profiled by PBS, BBC News and CBS News as well as The Sunday Times, Conde Nast Traveler, Los Angeles Times, Reader's Digest, The Huffington Post, Elle Magazine and other publications around the world.
3/31/2014 Madison Novo – Inspirational Young Person and Community Advocate
I have not met Madison Novo yet however in reading about her and her dedication to help The American Cancer Society Relay For Lif eof Pembroke Pines despite fighting an illness herself and being in and out of the hospital I chose to make her JDOGG's Person Of The Week. From what I have read Madison has inspired many to get involved with Relay For Life through Her Divas For A Cure Team. Despite being very sick and battling illness Madison or Madi as her friends refer to her as made it to The Pembroke Pines Relay For Life and was very happy to be there. Her effervescent smile shined bright and her team was one of the top teams for The Pembroke Pines Relay For Life.  Despite being in and out of the hospital Madi has maintained a positive attitude. We can all learn from Madi and her positive attitude. I hope Madi gets better and continues to inspire others to give back to the community.
3/24/2014 – Lerue Sarvis – President DJ Lerue Productions
I first came to know Officer Lerue Sarvis at a local event where he was DJing. He and I spoke and then we saw each other at  The Local Starbucks and he asked me about using being an announcer  for some of his gigs. I helped him with a fundraiser for The College Tour that he sponsors with The YMCA every year and from their we have worked together on many projects including The National Nigh Out Against Crime for The City Of Lauderhill. Lerue is an officer who exemplifies the importance of being involved in the community. When he is not busy keeping the community safe as a police officer he provides Dj, Video, and photography services for special events. Lerue has overcome much adversity and continues to be a beacon of hope for others to follow. The college tour has inspired many young people to pursue the college opportunity and also provided the attendees with the resources necessary to ateend college. Lerue recently formed a non-profit organization, From The Mouths of Babes, which provides leadership and livelihood skills to the underserved of our community. Lerue is a positive role model for all and continues to show that service to humanity is the best work of life.
3/17/2014 – Eugenia Akef – Belly Dance Instructor and Performer
 Eugenia Akef is an amazing spirit who radiates positive energy wherever she goes. She is a Breast Cancer Survivor who doesn't allow the trials and tribulations of cancer to slow her down. She heads up The Arabella Dance Troupe who perform all over South Florida spreading a message of hope and healing to all they come in contact with. Eugenia  is someone who illuminates any event where she is in attendance her spirit exudes a sense of peace and joy. Her dedication to helping others inspires those who watch her perform. Eugenia is an example that service to humanity is the best work of life as she continues to reach out to others and encouraging them to step into their power by shining their light.  You can follow Eugnia on Facbook at Eugenia Akef Belly Dance.
3/10/2014 – Wayne Filowitz – CEO of WRPBiTV- www.wrpbitv.com
Wayne Filowitz is a pioneer in The Internet Broadcasting Industry. Wayne began his Internet Broadcasting Career 17 years ago when he launched an Internet radio station. the Internet Radio Station morphed into an Internet TV Station 7 years ago with WRPBiTV being formed. Wayne provides and excellent platform for those seeking a viable way to maximize their message. Wayne also host a show, Wandering Through Wayne's World, that runs the gamut of topics from politics to entertainment and everything in between. Wayne has overcome much hardship and continues to serve as an example that earth's great treasure lies in human personality. Wayne also exemplifies the ideal that service to humanity is the best work of life as he supports many charitable causes. Wayne's passion for helping other people excel is seen on a daily basis at WRPBiTV.
3/3/2014 – Sherry Reardon- Community Advocate And Founder of Shimmy For The Cause
 Sherry Reardon exudes positivity in all she does from Volunteering at The Puppetry Arts Center of The Palm Beaches to Volunteering with The American Cancer Society Sherry's love for helping others shines through. As an outstanding Belly Dancer she has taken her passion to  new level as she hosts Shimmy For The Cause every year this year the event raised $1300. Sherry continues to be a shining light for others to follow.
2/24/2014 –  Vanessa Ferreira Halloum – President Holistic Chamber of Commerce of Greater Fort Lauderdale
 Vanessa is on a mission to help people make a mind, body, soul connection so they can live their life full out. Her dedication to putting people on a path to wellness in mind, body, and spirit is evidenced by her work with individuals and groups. She is the founder of  The Holistic Chamber of Commerce of Greater Fort Lauderdale. At the age of eleven Vanessa Ferreira Halloum left her native country of Brazil and began an exciting journey which took her to live in wonderful places like Buenos Aires, Argentina; Caracas, Venezuela; San Juan, Puerto Rico; London, England; Florida and recently New Jersey. The adventure has never stopped as she continues to travel the world and meet people from different countries, cultures and religions. Her belief is that every time we meet someone with a different point of view than ours we learn something about ourselves we never would have known if not for this encounter.
Vanessa started her first teaching career at Cultura Inglesa, one of Brazil's largest and best English schools. She taught English to students of all ages and at the ripe age of 19 she ventured on a mission and traveled her country giving workshops to veteran public school teachers on effective techniques for teaching English to students. That same year she authored and presented a paper for Culura Inglesa's yearly international conference (ABCI Conference) entitled When Every Man Must Play a Part which discussed how teachers can use theatrical techniques in the classroom in order to get students interested and engaged.
Vanessa has more than 15 years experience in the corporate environment but her spiritual journey began almost 20 years ago when she walked in her first yoga class in Belo Horizonte, Brazil. She had never read anything about yoga and no one had ever mentioned yoga to her. Still to this day she is not sure what made her walk into that yoga studio, an act that would impact her for the rest of her life. She spent many years exploring yoga as well as searching for so many of life's questions. It wasn't, however, until 7 years ago when she decided to take her spiritual search and her yoga practice to a new level. She started teaching yoga and immersed herself with as many spiritual teachings as she could. She was determined to find her path and in 2006 she became a certified yoga teacher.
Although she has experienced a great deal of success in the corporate world as a Marketing Manager, Yoga and holistic approaches to well-being have always been her passion and biggest interest in life. She has recently moved away from the corporate world and has decided to pursue her true path of self-discovery through her yoga teaching, Yoga Trance Dance, Thai Yoga Massage, coaching, and lectures in self-empowerment and discovery. She strongly believes in the power of the human spirit and is determined and committed to making an impact in the lives of the people she meets.
2/17/2014 – Peace Corps Alumni Foundation For Philippine Development
This week I decided to honor a great group of humanitarians who exemplify the ideas that the brotherhood of man transcends the sovereignty of nations and that service to humanity is the best work of life. I am proud to have served as a U.S. Peace Corps Volunteer from July 2002 – February 2003 in Bauang La Union.
ABOUT PCAFPD
Mission
In 1983, returned Peace Corps Volunteers and staff created the Foundation as a way for former Volunteers and staff to stay connected to the Philippines and to each other in a worthy cause. PCAFPD chose human development as the focus of the organization because of a conviction that motivated, knowledgeable, and skilled individuals are the key to community change and national development.
Through a competitive scholarship program, the Foundation provides educational opportunities for bright, young Filipinos who indicate a willingness to contribute to the development of their country, but lack the financial resources to pursue a university degree.
PCAFPD is incorporated as a non-profit organization according to the laws of the District of Columbia and under Sec. 501(c) (3) of the Internal Revenue Code.
PCAFPD is the official Returned Peace Corps Volunteer (RPCV) group for the Philippines and is an affiliate of the National Peace Corps Association (NPCA).
Scholarship Program
The call for scholarship applications is held annually and students throughout the Philippines are eligible to apply, regardless of discipline or choice of school. (Check out the application page on this website to view or print the application.)  Interested students learn about the program through graduates, teachers and guidance counselors, current Peace Corps Volunteers, and the Internet.
Applicants must have excellent academic, extra-curricular, and community service credentials.  They submit information about their background, educational goals, economic circumstances, and community service experience, as well as transcripts of grades and recommendations from schools and community leaders.
Successful applicants receive a full four-year scholarship covering tuition, fees, books, and education related expenses.  They also receive a modest living allowance, with an expectation that their families or part-time work will cover most living expenses.  Scholars must maintain passing grades and comply with all requirements stipulated in the scholarship, including submission of grades and essays about their learning experience each semester. Almost all awards are made to scholars in the top 10 percent of their graduating class and with family incomes below the poverty line.
The number of scholarships awarded in any one year is determined by the funds available, the quality of the applications, and the number of continuing scholars. In recent years, the Foundation has awarded between six and twelve new scholarships each year, and supports between thirty and forty-five scholars in a given year.  To date, more than 150 scholars have completed university degrees and several have earned graduate degrees.
The average cost of supporting a scholar for one year is $1200.  Find out how you or your organization can provide a special scholarship to support a scholar.
Management of the Foundation
The Foundation is administered by an elected Board of Directors, who serve without compensation. The Board meets regularly in Washington, D.C. (and visitors are always welcome to join meetings).  Advances in technology have enabled us to operate the Foundation with board members located in other parts of the U.S. and in the Philippines.  Our Vice President in Manila monitors all scholarships, deals with school administrations, and provides guidance and support to the scholars.
Funding
The Foundation raises funds through direct contributions from former Peace Corps Volunteers, staff, Filipinos, and friends of the Philippines. A number of Filipino-American individuals or associations choose the Foundation as a way to support students in their home country.  PCAFPD does not maintain formal offices in Washington or the Philippines, and care is taken to keep overhead costs low so that donated funds are almost completely devoted to scholarships.
Contributions to PCAFPD are tax deductible and can be made online through Network for Good or by checks sent to P.O Box 100114, Arlington VA 22210.
2/10/2014 Stephen Narine  – Owner Professional Productions and Community Advocate
I first met Steve Narine of Professional Productions at  Starbucks. He and I began to talk and he told me of all the great things he was doing in the community and all the gigs he was working. I was very impressed and he an I have been in touch every since that first meeting. Steve who is in the red shirt in the first picture exemplifies the ideals that service to humanity is the best work of life and that the brotherhood of man transcends the sovereignty of nations.  Recently Steve and his significant other Melissa formed a team of volunteers to feed those in need in the community. Steve's leadership on this project shows what happens when you put your passion into action.     You can connect with Steve at www.professionalproductions.biz
2/3/2014 Derrick Coleman – Running Back Seattle Seahawks
Derrick Coleman who wears hearing aids because he is hearing impaired has overcome many obstacles to become the first deaf football player to play in The NFL and to also play in a Super Bowl. After last nights victory 43-8 over The Broncos you can now add Super Bowl Champion to his list of accomplishments. He became popular in a Duracel Commercial which told his story. This week he surprised two hearing impaired children with tickets to the Super Bowl after they sent him a letter of encouragement. No one in the NFL thought that Derrick Coleman, diagnosed as deaf at age 3, would ever make it to the Super Bowl. Few thought he could play in the league, period. The truth is that Coleman made NFL general managers a little nervous. "Many of the people were very unsure about what sort of way it would handicap the coaches," said Rick Neuheisel, who was Coleman's coach at UCLA. "I told them they weren't even going to notice except that maybe the running backs coach was going to have to stand on the other side of the ball so he could read his lips.
1/27/2014 Heather and Heidi Burge – Pro Basketball Stars and Community Leaders
I was watching The Disney Movie, Double Teamed, which is a story about Heather and Heidi Burge, two sisters who learned to work together and who taught a very important lesson to parents about pushing their kids too much. As I watched the movie and saw the progression these two women made I decided to make them JDOGG's Person Of The Week. Heather and Heidi Burge are twin sisters from California, United States, who both played college basketball at the University of Virginia and then played professionally in European leagues and in the Women's National Basketball Association. At 6 feet 5 inches each, they were the world's tallest female twins before their record was broken by Ann and Claire Recht. A Disney television movie, Double Teamed, is based on their life stories and achievements in basketball. In the WNBA, Heidi Burge Horton played for the Los Angeles Sparks and the Washington Mystics. Her sister Heather Burge Quella played for the Sacramento Monarchs. Both twins had to retire from playing basketball due to injuries. Heidi now works as a massage therapist and does basketball coaching and clinics on the side; Heather is now a multilingual teacher in Southern California.
1/20/2014 Elisa Ruff- Founder Perfect Union of Body and Mind, Herbologist, Owner Lisa's Herbs and Oils
I had first interacted with Elisa Ruff, owner of Lisa's Herbs and Oils on Facebook through a mutual friend and I was very impressed with her story that I invited her to be on my TV Show, The Anything Bucket, which airs on WRPBiTV on Tuesday at 6:30 PM EST on www.wrpbitv.com. Elisa appeared on the show and educated my audience about the value of herbs and oils use in their everyday life. Elisa has overcome many physical challenges as a result of using the herbs and oils and is a walking testimony for all who are interested in incorporating herbs and oils into their daily routine. Elisa serves as an example of being of service and value as she educates people about her herbs and oils, assists in many charitable causes, and shares her story of hope with others.
1/13/2014 Francine Santana Novak- Drama Queen Productions and Relay For Life Supporter
    I came to know Francine, known as Francie to her friends, through Facebook and we share a common interest and that it creating a world with less cancer and more birthdays through Relay For Life. Francie is a business leader who exemplifies the ideal that earth's great treasure lies in human personality.  Her dedication to helping others can be observed by the myriad of events that she puts on in her community. Her commitment to making the world a better place has led to her forming Divas For The Cure with her daughters to help those affected by cancer. Francie radiates hope everywhere she goes as she continues to stay positive.
1/6/2014 Joel Bogess – Author, Speaker, Coach, Radio Show Host
I had the pleasure of interviewing Joel Bogess for my radio show, Get Motivated With Jonathan JDOGG Lederman, which is heard on www.blogtalkradio.com/hrafnstongradio on Monday at 6:00 PM EST. Joel is definitely a leader in the Personal Development Field and his insight with his radio show and book Finding Your Voice is helping to make 2014 a Year Of Transformation for many people. Joel's book will definitely give readers clarity as they find their voice. Need clarity on what to do next? It's not that there are no options, or nobody give you advice. On the contrary, the choices can be overwhelming. What's important is knowing what is right for YOU in your season. Say "NO" to the noise and "YES" to your life.
Lost that "spark" somewhere along the way? You are an unique gift to the world – discover clarity of direction and shine!
Joel Boggess has Master's degrees in counseling and business. He has been a life and career coach since 2006. In addition to his own journey, Joel offers a number of real-life accounts of the growth and success his clients have experienced. These stories bring to life the truths he offers. Highly relatable and immediately applicable, Finding Your Voice will help you get back in touch with the real you to live your best possible life. You will learn:
How to get "unstuck" and move forward to the life you were born to live;
How to take control of your schedule and live a life with less chaos and more meaning;
How to make better decisions for work, home and family, and to be at peace with your life direction;
How to identify unique gifts and skills that enable you to make a difference in the world